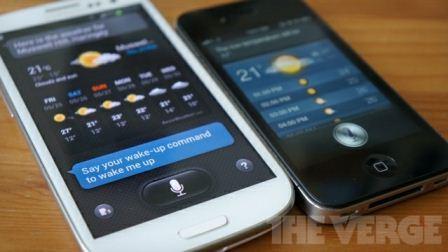 Die Sprachsteuerungen Apple Siri und Samsung S Voice treten gegeneinander an.
The Verge hat die zwei Kontrahenten gegeneinander antreten lassen und diesen Test als Video festgehalten.
Sie nennen es Siri vs. S Voice.

*In Eigene Sache
Apples iPhone 4S mit Siri tritt gegen Samsungs Galaxy S 3 mit S Voice an.
In einem 7 Minute langen Video testete the Verge die beiden Sprachassistenten auf verschiedene Standardkommandos.
Erster Eindruck. Siri dürfte etwas schneller und ausgereifter sein.
Aber perfekt sind beide nicht. Da müssen wohl beide  Hersteller noch nachbessern.
Neuerungen erwarten uns für Siri aber möglicherweise auf der WWDC im Juni. Da könnte Apple Siri Zugriff auf die neuen eigenen Karten und möglicherweise auf 3rd-Party Apps erlauben.
Wir halten euch auf dem Laufenden.
Dein Banner hier
*In Eigene Sache