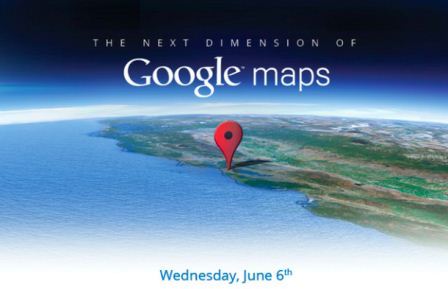 Google lädt zu "The next dimension of Google maps" Presseveranstaltung am 06. Juni.
Wie wir alle wissen findet am 11. Juni Apples WWDC statt. Dort wird mit ziemlicher Sicherheit u.a. auch das neue iOS 6 präsentiert. Wie wir auch glauben zu wissen, wird Apple dort auch seinen neuen Kartendienst vorstellen. Wahrscheinlich wird Apple Google Maps den Rücken kehren und seine eigene 3D Kartenanwendung in iOS 6 integrieren. Erste Anzeichen oder Vorbereitungen dafür gab es ja schon in unserem Artikel: "iPhoto: OSM statt Google Maps".
Diese Chance nutzt Google und beruft noch schnell eine eigene Presseveranstaltung ein. Mit dem Titel "The next dimension of Google maps" wird uns Google einen Ausblick auf die künftigen neuen Funktionen von Google Maps geben.
Die von 9TO5Google veröffentlichte Presseeinladung:
At this invitation-only press gathering, Brian McClendon, VP of Google Maps and Google Earth, will give you a behind-the-scenes look at Google Maps and share our vision. We'll also demo some of the newest technology and provide a sneak peek at upcoming features that will help people get where they want to go – both physically and virtually. We hope to see you there.

*In Eigene Sache
Auch Googles Maps soll laut Informationen eine 3D Ansicht erhalten. Weiters wird Brian McClendon über Googles Vision für den Kartendienst sprechen.
Welche Technologien und Funktionen also Google bei seinem Kartendienst Google Maps in Zukunft integriert, werden wir dann am MI den 06. Juni 2012 sehen. [via]
Wir halten euch auf dem Laufenden
Dein Banner hier
*In Eigene Sache