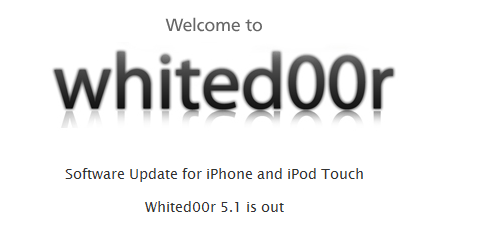 Software Update for iPhone and iPod Touch: Whited00r 5.1 is out
Mir Whited00r 5.1 könnt ihr das iOS 5.1 auf das iPhone Classic, iPhone 3G und iPod Touch (1G, 2G) spielen.
Apple hat seit dem iOS 4 kein Update für das iPhone Classic mehr bereitgestellt.

*In Eigene Sache
Und mit dem iOS 5 kein Update für das iPhone 3G mehr ausgeliefert.
Mit Whited00r spielt ihr eine "Light"-Version von iOS 5.1 auf euer altes iDevice.
Kompatibel sind die iPhone-Modelle 2G und 3G sowie der iPod Touch 1G und 2G.
Whited00r bringt Multitasking-Unterstützung, Video-Funktion, Ordner, Erinnerung, iCloud usw…
Die neue Firmware ist ca. 300 MB groß und ihr könnt es auf Whited00r Downloaden.
Whited00r is free and doesn't support piracy.
If you want to say thanks, please support the project with donations.

And it's only the start! Share the project!
YOU ARE ONE OF US! WHITED00R IS YOU! 
Bild: whited00r.com
Dein Banner hier
*In Eigene Sache